#Photo #Editing #Services #ECommerce #Store

Providing the top-notch photo editing services for e-commerce store and not letting them be unhappy is the key to success. On the flip side, for buyers, they want the best output and of course the quick turnaround comes after that.
Product visual action on your e-commerce store will turn on your customers. People love to consume something when it is beautiful. Here is why, beautifying your online business store comes into play. 
Retouching Zone has been helping more than 1.6k clients for the last 10 years. Some valuable techniques apart from the crowd (what they are practicing, always tie up a new client). We've team of designers who are experts in photo editing & retouching services for Amazon, eBay, Ali-Express, Shopify store and more.
E-commerce business is a vast place and tons of editing require to be done. At the same time, no chance to compromise with the delivery or image output.
Thankfully, a service agency that comes with thousands of designers and 3 Steps of Quality assurance by experts will manage to ensure it. Outsourcing photo editing services for E-commerce Store.
What Does Product Photo Editing Include?
Image editing for any e-commerce store makes sense to the audience. Showing them every angle of the product with a clean-cut view wins the hearts of millions. The Retouching Zone team proudly enhances every photo of your store with our pro-level editing skill.
Making you proud from our best output is the key to success of our business. No matter what type of product you have that comes with lots of imperfection, using the most advanced Adobe photoshop editing process, we can shed away all dullness. To do so, we sneak peek into the details of every image then add life to it.
Product Photo Background Removal
To enhance the textures, vivid color and surfaces of your product photo, the background removal service is a must. Our final output of removing background will bring out the realistic image for your ecommerce store.
Starts From $0.33
Ghost Mannequin Effect for Product Showcasing
Hollow man ghost mannequin is the most suitable while showcasing clothes. It gives the audience a gross idea how it will fit on them. Our hand-made expert mannequin effect will let your customers understand it. Our sole focus is to make it stand-out from average invisible mannequin without any pitfalls.
Starts From $0.49
Product Photo Retouching & Enhancement
We love to enhance the photo to the best level so that it looks like a realistic product image. We sort out every defect from the original photo and make it visually appealing. With retouching we can remove every unwanted thing like stains, wrinkles, dark spots, and many more. From Jewelry photo retouching to any normal product we can retouch astoundingly.
Starts From $0.59
Photo Color Change & Color Correction
A product comes with many color options. To showcase all of them for the eCommerce store, we can correct the color in different variations from the single given image. Additionally, you will get the basic retouch to make it beautiful.
Starts From $0.39
Creative Product Photo Editing & Manipulation
A product image sometimes tells a lot of story when a designer can creatively think and optimize it accordingly. Here manipulation comes to play a vital role. We believe our creativity to enhance beauty will turn the toss.
Starts From $0.75
3D/360° Packshot Product Retouching
3D or 360° packshot is the best way to let your customer see around the product from every angle. A normal 2D image can not show all of them. We create responsive packshot retouching services without any minimum flaw.
Starts From $0.39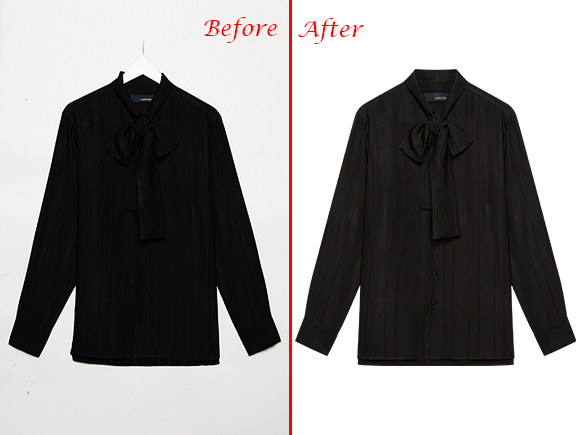 Food Product Photography Retouching
Good food tastes better but if it does not look better then very few will ever come to try. Food product photography oftentimes may not bring the desired result. Our team of experts comes with the full-fledged experience to make it look eat-worthy to foodies. Here, we do retouching, add manipulation skill to include new items in order to look great.
Starts From $0.33
Fashion & Footwear Product Photo Editing
We work with the world's leader Nike & Adidas in terms of Footwear e-commerce stores. Our expert designer brings out the perfect shoe line drawing, removes the background, adds color variations and many more Photoshop works. Regardless of any product complexity, we can start work to bring the best result.
Starts From $0.39
Electronic Product Photography Editing
For the tech entrepreneur e-commerce seller, we have successfully done many projects. It gives them a boost in sales. We fine-tune the given image by removing dust, stain or blemishes then add glamor to make it look outstanding.
Starts From $0.59
Furniture Product Photography Retouching
Product photo editing for furniture e-commerce store is very critical. Furniture product photography oftentimes may not bring the desired result for photography error. Our professional designer's comes with the full-fledged experience to make it look awesome. Here, we do furniture retouching, background remove and color correction in order to look great.
Starts From $0.33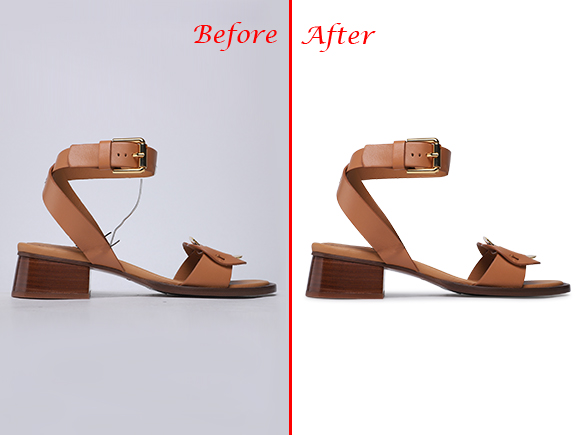 Questions that may come around your Mind & Our Answers
Working for the professional image editing services isn't easy all the time especially when there would be doubts and confusion. We set the boundaries with a few common steps so you can go back to your work and spend less time giving instructions.
How fast can you deliver the eCommerce photo editing services?
We have two channels to work, the first one is a prompt delivery channel and the second one is a continuous channel. In our prompt delivery channel with urgency we can manage to deliver from 1 hour up to 12 hours. From our regular basis or continuous delivery channel we deliver based on a batch basis. For example, in each batch there would be hundreds to thousands of images to prepare.
Can the Retouching Zone be able to cope with the fluctuation of my photo volume?
Yes, since we have prompt delivery and regular delivery channels so we move our work when you have urgency to take delivery in a short span of time.
What services do you provide for E-commerce product image editing?
For e-commerce product photo editing store, we are able to provide all sorts of services including photo retouching, background removal, mannequin, color correction, shadow making, and many more.
What type of e-commerce product do you edit?
We edit all sorts of products except if the product is not illegal or has any legal issue to sell. Start from the normal edit to creative manipulation, you can find us a one stop service solution.