#Digital #Operational #Resilience #Act #DORA #compliance #VMware #Runecast

As an IT admin, you must make sure that the operational resilience of IT systems that you are in charge of, stays not only performant, secure, and resilient, but also compliant. The Digital Operational Resilience Act (DORA) has emerged as a significant regulatory framework designed to fortify the stability and security of the digital infrastructure, especially financial institutions.
For IT administrators, compliance with DORA is not just a legal requirement but also a crucial step toward bolstering their organization's operational resilience. In this blog post, we will delve into the intricacies of DORA compliance and explore how VMware, in conjunction with the Runecast platform, can empower IT administrators to navigate this regulatory landscape effectively.
Runecast is the industry's first to help with DORA compliance! Nobody else is doing it at this point. Check out their detailed blog post about it here.
Understanding DORA
The Digital Operational Resilience Act (DORA) is a comprehensive regulatory framework introduced by the European Union (EU) to address the growing concerns surrounding the operational resilience of financial entities, including banks, payment service providers, and stock exchanges.
It is a new regulation that aims to strengthen the information and communication technology (ICT) security of financial entities in the European Union (EU). It was published in the Official Journal of the EU on 27 December 2022 and will enter into force on 16 January 2023. It will apply to a range of financial entities
DORA will try to make sure that the IT infrastructure is compliant and ensures continuous availability and security of critical services even in the face of disruptive events like cyberattacks or system failures.
DORA establishes several key requirements that organizations falling under its purview must adhere to, including:
Risk Management and Assessment – Organizations are required to conduct regular risk assessments to identify potential vulnerabilities and threats to their critical services. These assessments must encompass a wide range of scenarios, from cyber threats to natural disasters.
Testing and Scenario Analysis – DORA mandates organizations to perform regular testing and scenario analysis to evaluate their ability to withstand operational disruptions. This includes testing for cyber resilience and the ability to recover from system failures.
Incident Reporting – In the event of a significant incident affecting the availability or security of critical services, organizations must report these incidents to their relevant authorities and provide detailed information about the incident's impact and mitigation efforts.
Third-Party Service Providers – Organizations must also ensure that their third-party service providers comply with DORA standards, as these providers can significantly impact the operational resilience of the organization.
Documentation and Record-Keeping – Robust documentation and record-keeping are essential to demonstrate compliance with DORA requirements. This includes maintaining records of risk assessments, testing results, and incident reports.
The Role of VMware in Achieving DORA Compliance – VMware as a global leader in cloud infrastructure and digital workspace technology, has been at the forefront of helping organizations meet the challenges of DORA compliance. VMware offers a wide range of solutions that empower IT administrators to enhance the operational resilience of their infrastructure, including:
Virtualization and Cloud Infrastructure – VMware's virtualization and cloud infrastructure solutions provide organizations with the flexibility and scalability needed to maintain critical services during operational disruptions. By leveraging VMware's technology, IT administrators can easily move workloads between on-premises data centers and cloud environments, ensuring continuous service availability.
 Security and Compliance – Security is a paramount concern in the context of DORA compliance. VMware offers a robust set of security and compliance tools that help organizations protect their critical services from cyber threats and vulnerabilities. Features like VMware NSX provide micro-segmentation and network security, while VMware Carbon Black offers endpoint protection and threat detection capabilities.
Disaster Recovery and Business Continuity – Ensuring the availability of critical services even in the face of disasters is a fundamental aspect of DORA compliance. VMware's disaster recovery and business continuity solutions, such as VMware Site Recovery Manager, enable organizations to create comprehensive recovery plans and automate failover processes, minimizing downtime and data loss.
Compliance Automation with Runecast – While VMware offers a range of tools and solutions to address the various aspects of DORA compliance, managing and ensuring compliance across complex environments can still be a daunting task. This is where the Runecast platform comes into play. It is a centralized solution to maintain your IT environment according to VMware best practices, security configurations, and compliance.
Check our comprehensive and detailed review of Runecast Platform here.
Runecast automates your vulnerability management and security compliance audits for Azure, Kubernetes, VMware and AWS environments toward industry standards: VMware Security Hardening Guide, CIS Benchmarks, NIST, PCI DSS, DISA STIG, HIPAA, BSI IT-Grundschutz, GDPR, ISO 27001, Cyber Essentials, AU Essential 8 and more.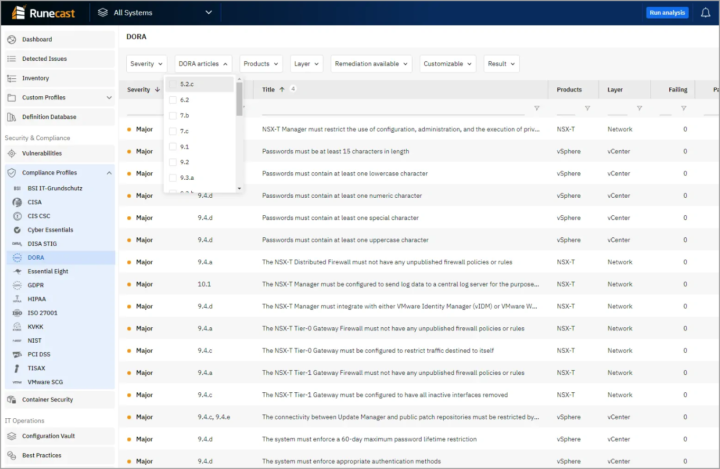 Runecast Platform v 6.7 introducing DORA
The Runecast platform is an innovative solution designed to simplify compliance management and security assessments in VMware environments. It seamlessly integrates with VMware solutions and provides IT admins with some key benefits:
Real-time Compliance Monitoring – Runecast continuously monitors VMware environments for compliance with a wide range of industry standards and regulations, including DORA. This real-time monitoring ensures that organizations can identify and rectify compliance issues promptly.
Automated Risk Assessment – The platform conducts automated risk assessments by analyzing configurations, logs, and known vulnerabilities within VMware environments. This proactive approach allows IT administrators to address potential compliance risks before they become critical issues.
Security Hardening – Runecast assists IT administrators in implementing security best practices by identifying and providing guidance on security hardening for VMware components. This proactive approach helps organizations stay ahead of emerging threats.
Automated Remediation – One of the standout features of Runecast is its ability to automate the remediation of non-compliant configurations. IT administrators can choose to implement suggested changes semi-automatically (via over 800 scripts, and growing) or review and apply them manually, depending on their organization's policies.
Reporting and Documentation – Runecast generates detailed reports that can be used for audit and compliance purposes. These reports provide clear insights into the compliance status of the VMware environment and the actions taken to address compliance issues.
Integration with VMware and cloud Solutions – Runecast seamlessly integrates with vSphere, VSAN, NSX-T, VMware Horizon, vCloud Director as well as cloud platforms (AWS, Azure or GCP) and Kubernetes (Tanzu, Amazon EKS, Google Kubernetes Engine, Azure Kubernetes Service (AKS), OpenShift and others. IT administrators have a centralized platform to manage compliance and security across their entire IT infrastructure.
Knowledge Base Updates – The Runecast platform regularly updates its knowledge base to include the latest industry standards and regulations, ensuring that organizations remain compliant with evolving requirements like DORA.
In the near future (early 2024) financial institutions operating in the EU are subject to DORA compliance regulations. Their IT infrastructure which is most likely built on VMware solutions, including VMware vSphere, NSX, and vSAN, needs to stay compliant.
Those institutions can deploy the Runecast platform in conjunction with VMware solutions to address these challenges:
By combining VMware solutions with the Runecast platform, financial institutions are able to achieve enhanced operational resilience by ensuring the continuous availability of critical finance services. At the same time, the Runecast platform is used as a single pane of glass for all proactive identification and mitigation of compliance risks and security.
Runecast 6.7 release has also those updates:
All 12 sections of the STIG security assessment for VMware vSphere 7.0
All Ubuntu CVEs dating back to 2020 are now included
The ISO 27001 profile is enhanced to cover Microsoft Azure
Cyber Essentials for AWS
HIPAA for AWS
CIS 1.7.1 for Kubernetes
Remediation scripts added to cover DISA STIG profile rules for VMware vSphere
Linux rules customization
New CVEs for Microsoft, Linux and Kubernetes
All SUSE CVEs for 2020/2021/2022/2023
Runecast Website here.
More about Runecast from ESX Virtualization Blog
More posts from ESX Virtualization:
Stay tuned through RSS, and social media channels (Twitter, FB, YouTube)